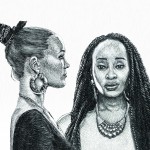 On the 18th of September 2013 SwingKids will release the dancehall duo Serengetis second album "Rebellious Hearts". The release will be on CD as well as Spotify, Itunes etc.
The songs are produced by some of the biggest names in internatial and swedish dancehall such as Don Corleone, KAP10 Productions (Kapten Röd) and Partillo Productions!
Guest artists are also some of the biggest Swedish and Jamaican names such as Syster Sol, Etzia, Lutan Fyah and Agent Sasco (a.k.a. Assassin).
Check www.serengetimusic.com for more info about Serengeti

Serengetis latest single "I am the one":